The William Appleby Memorial Trust
Information about The William Appleby Memorial Trust and it's work with Doncaster Music Service.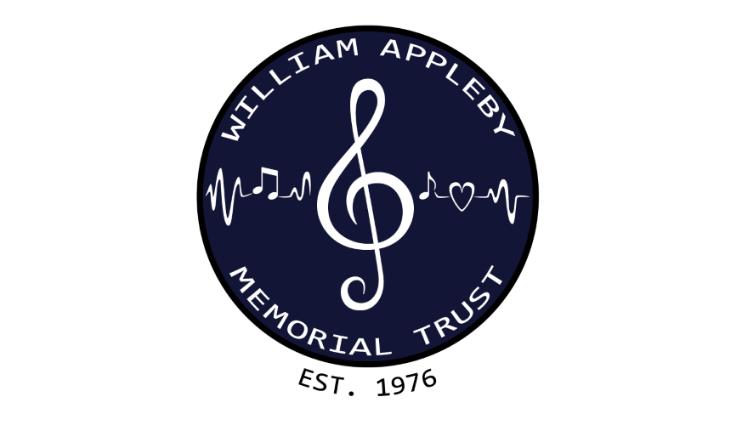 ABOUT US - Past and Present
In Autumn 1973, after the sudden death of the former Music Director, Benjamin William Appleby, a wide range of people pledged money in William Appleby's memory. This formed the basis of The Trust's original funds and enabled The William Appleby Memorial Trust to be created.
The Trust was set up with a very specific aim, 'to support the advancement of musical education for young musicians within the Doncaster area, through Doncaster Music Service (DMS)'. From the very beginning, right through to the present day, The Trust continues to make grants in accordance with its constitution (sometimes individual grants have been awarded on application). Its funds have been 'topped up' in a variety of ways, including the proceeds from certain concerts put on by DMS, along with several other donations, occasionally from individuals. Recently, funds have been generated largely by the Doncaster Ukulele Group and, to a lesser degree, DMS Parent Group.
The Trust is extremely grateful to receive contributions, and sincerely appreciates them. So, if you'd like to make a donation then please don't hesitate to get in touch.
BOARD MEETINGS
The Trust Board Meetings take place on a regular basis and over the years, a considerable number of people have participated as Trust Board Members since it was formed - over 4 decades ago. They have done some very useful work over that period, and the present Members continue to do the same very worthwhile work to support the advancement of musical education for young musicians within the Doncaster area.
HOW THE TRUST SUPPORTS YOUNG PEOPLE
The William Appleby Memorial Trust supports young people within Doncaster by providing financial support to DMS for the following:
Let's Make Music
The 'Let's Make Music' programme provided by DMS has been financially supported by The William Appleby Memorial Trust. Generous contributions from The Trust have enabled the programme to be as attractive and inclusive as possible, by supporting the financial constraints of schools and parents during this challenging time. The programme is focused on enabling pupils to play a musical instrument alongside their peers and is aimed at new beginners and/or pupils wishing to continue after a First Access programme. It is based on 4 pupils having weekly sessions of 30 minutes in length and is offered at a vastly reduced cost per pupil per session (including free instrument loan).
Examinations
The Trust supports pupils within Doncaster to take musical exams by providing a room and an accompanist for all exams. The Board pays for exams entered at Grade 6 and above, whilst also paying for Grade 5 Theory, if pupils meet the criteria (i.e. attending lessons with DMS staff, and at least 1 senior ensemble). However, exceptions are made for those pupils who are in receipt of free school meals, and in this case The Trust pays for exam grades at all levels.
Minority Instruments
This is a very changeable aspect in which The Trust supports the music service, currently The Trust is helping to financially support DMS to deliver subsidised lessons to pupils learning to play the Cello and the Double Bass.
Individual Requests
The William Appleby Memorial Trust Board will consider individual requests for financial support on application, please contact us for more information via email to williamapplebytrust@gmail.com
William Appleby Music Centre
The Trust supports pupils within Doncaster to play music together, make new friends and have fun, this is a place for everyone. For more details about our ensembles please
click here.
THE WILLIAM APPLEBY MEMORIAL TRUST AWARDS EVENING
The William Appleby Trust Committee recognises and encourages the contributions made by many of our young people to the musical activities of the area by hosting an annual award evening. This is for pupils who show evidence of a high level of attainment, such as marked success at a high grade of one of the recognised music examination boards, it also celebrates the commitment pupils have shown towards their music, recognises pupils who have continued to study and be involved in music despite personal challenges as well as a variety of other achievements.
More details about the awards evening can be found by clicking on the button below:
For more information about Doncaster Music Service please click on the buttom below.
VOLUNTEER TRUSTEES
The William Appleby Trust is a Charity set up by Doncaster Council for the furtherance of musical education. The Trust is currently looking for volunteer trustees to add to their current group. They are looking for people to help with fund raising and on the general development of the charity to ensure it continues to help children and young people long into the future.
If you are interested in becoming a trustee please email williamapplebytrust@gmail.com
Contact:
For more information about the activities listed above, contact the William Appleby Memorial Trust via email to:
Display your introduction over featured image?: No
Last updated: 13 September 2023 11:46:16
Did you find this page helpful?