Local school children design artwork for HWRCs
Eye-catching posters now adorn the new fleet of skips across the city.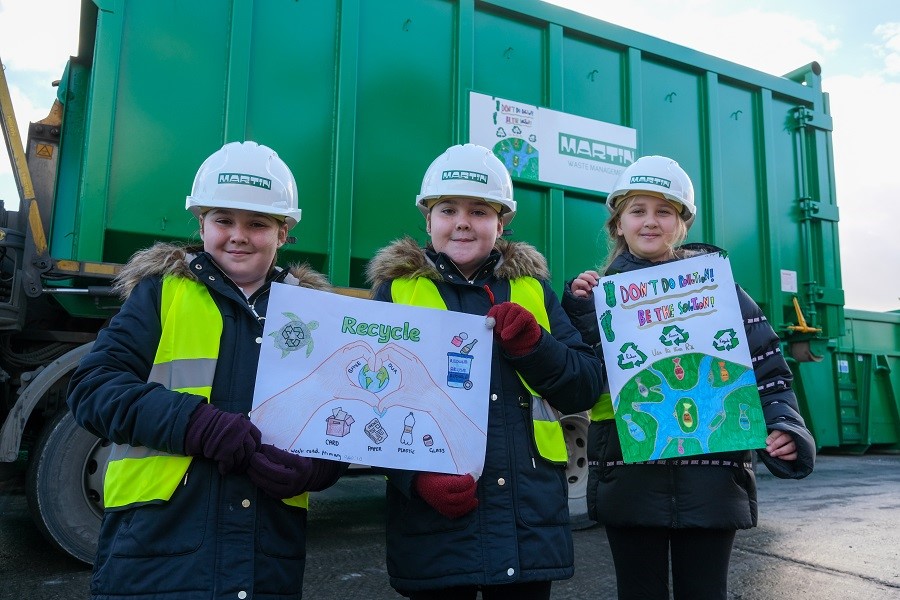 HW Martin Waste Ltd were recently awarded the contract to manage the six Household Waste Recycling Centres (HWRCs) with City of Doncaster Council.
In a bid to promote the importance of recycling, HW Martin Waste Ltd engaged with schools and community groups across the city to undertake numerous sustainability and recycling awareness sessions. The initiative was in aid of launching a competition for the design of eye-catching posters that now adorn the new fleet of skips across the city.
Social Value Manager Stacey Parry, delivered recycling awareness sessions to Year 6 pupils at Edlington Victoria Academy and West End Road Primary Academy in Moorends. During the sessions pupils were informed on the types of recyclable materials, as well as the journey of the waste products and reducing waste into landfill sites.
The recycling awareness sessions were in aid of launching a competition in which pupils designed posters based on what they had seen and learnt in the hopes of being chosen as the winner for their design to adorn the signboards on the 145 brand new containers (skips) that are used everyday by the general public at the recycling centres. The sessions were welcomed by the schools as part of their environmental sustainability curriculum, and there were also submissions from a youth group in Stainforth designed by young people during a creative workshop with local artist Karl Lanaghan.
Cllr Mark Houlbrook, cabinet member for sustainability and waste at City of Doncaster Council, said: "The level of engagement with local schools and the community is fantastic. The artwork that they have come up with is really original and imaginative. I'd like to congratulate the children whose designs will be brought to life for residents to enjoy when they visit the sites. We have set out to increase an education around recycling for future generations and that is what we have done."
Proudly donning their HiViz and hardhats on 7 November, winners Hollie and Taylor, West End Road Primary, and Maja, Edington Victoria, visited the Household Waste Recycling Centre in Armthorpe with their parents to see their artwork in all its glory on the huge containers and to receive their prize of £25 book vouchers and a goody bags.
Last updated: 17 November 2023 13:06:37